Moonshine, a very popular acoustic gig,
with 5 stripped down local acts…
and Open Mic afterward (where I will hop on stage..)
see http://moonshinekl.blogspot.com/
It's Free, too!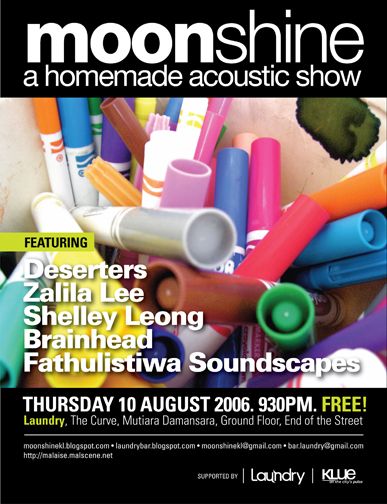 Where? LaundryBar, at theCurve, near 1Utama..
It's right outside CineLeisure, the new 24 hr cinema…
The website is here
Check out the decor here..
THURSDAY 10 August 2006
Show starts at 10pm
and I come on past midnight….
This is my 2nd public performance so far…
Two of my own songs on an acoustic guitar.
Preview one of my songs, here
After my first ever public performance in May,
I swore I would be back with a vengeance.
I will probably play again somewhere else next week,
and the week after, so tonight isn't that special haha